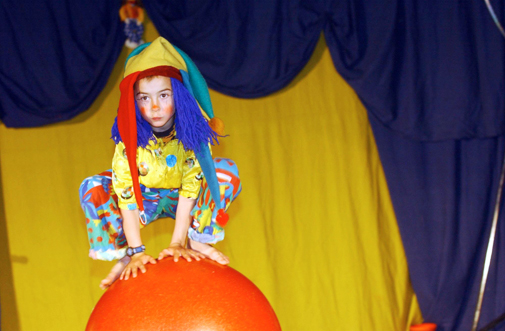 The school where the loser becomes the winner
Through the experience of practice Cirkus Sibylla have developed their own educational science for children using New Circus as a tool. This science has become an inspiration for teachers and other pedagogic professionals, through seminars and lectures, arranged by among others -the Swedish and Norwegian Music and Culture school Department. The circus school gives children and adults introduction in juggling, acrobatics, balance, tightrope, unicycle and clowning….
The aim is to create collective creative energy in a safe environment. In the circus school the children shall learn to find the excitement and joy in sharing their skills with each other, as well as showing it to an audience.
Introduction: The practical skills of juggling, unicycle, tightrope, balance, acrobatic, find your clown etc.
Try out: Free training with individual instruction. Circle work how to receive applause etc……
Performing – How to build up a circus number: At the end we make a performance where the pupils show for an audience what they have learned at the course. It can be used as a colourful parade in a festival or similar in cooperation with musicians.
Instructors: Carl Olsen, Ivanir Hasson Olsen, Kerang Olsen, Klara Mossberg, Marcus Wegge
Practical information
- Course for children: max. 20 pupils
- Course for children and teachers: max 25 pupils + teachers
- Seminar for teachers or others; max 100 participants
Duration: Minimum 12 hours 1 h = 45 min.
Rigging time: 1 h. before and after the course, carrying help will be appreciated.
Setting: Big sports hall or similar, high roof preferable.
Juggling course
Circusworkshop

How to juggle from 1-4 balls.
Technical, rhythm, show. We build up a little juggling routine, drama based on juggling

Introduction in different circus techniques. Free training with instructors

Duration: 2 school hours
Amount: Max 20 pupils + teachers.
Recommended From 10 years
Duration: 3 school hours
Amount: Max 20 pupils from 7 years + teachers.
Recommended from 10 years.